As there is more and more re-open talk, some of the stocks that will likely benefit the most, are starting to move nicely. One of those is AptarGroup (ATR). The company has survived what they are calling the "Crisis Low Point" and looks to gradually recover over the second half of the year. AptarGroup has a modest dividend, but a very well managed one that can be relied on for a small piece of income. All of this while the stock begins to breakout of its recent tight trading range is a recipe for success.

(Source: Google)
Who Are They?
Founded in 1992, AptarGroup operates in Asia, Europe, Latin America, and North America. They provide a range of packaging, dispensing, and sealing solutions. They break this down into three segments: Beauty + Home, Pharma, and Food + Beverage.
The Beauty + Home segment primarily sells pumps, closures, aerosol valves, accessories, and sealing solutions to the personal care and home care markets; and pumps and decorative components to the beauty market.
The Pharma segment provides pumps for nasal allergy treatments; and metered dose inhaler valves for respiratory ailments, such as asthma and chronic obstructive pulmonary diseases in the pharmaceutical market; and elastomer for injectable primary packaging components.
The Food + Beverage segment offers dispensing and non-dispensing closures, elastomeric flow control components, spray pumps, and aerosol valves to the food and beverage markets.
If you are looking for a COVID-19 recovery play, look no further than the injectable market. AptarGroup manufactures/sells stoppers for infusion, antibiotic, lyophilization, and diagnostic vials; and pre-filled syringe components, such as plungers, needle shields, tip caps, and cartridges, and dropper bulbs and syringe plungers. All of which will likely see a boost once we begin to distribute a vaccine across the world.
How Did Each Segment Preform During Q2?
AptarGroup has identified Q2 as the "Crisis Low Point". The Pharma segment was leaned on to make up for some of the let down from the other two. Drug delivery has been a hit, which has shown the potential for success long term in any environment. Demand for sanitizers and soaps did help pick up some of the slack as well, but the rest of the segments were hit negatively due to COVID-19 forcing closures across all industries.
All data is from the company presentation.
Beauty + Home
Beauty has been hammered the most by COVID-19. But still accounts for 24% of their revenue. They are most impacted due to reduced travel (retail sales) and stores being closed. E-commerce has not made up for what has been lost.
Personal care accounts for roughly 19% of revenue. While they have also been hit due to stores being closed, sanitizers and soap have helped offset the hit slightly.
Home care has been very stable and accounts for 4% of revenue. They have also seen a boost here from the increase in demand for cleaners.
Pharma
Pharma accounts for 38% of revenue and has been the least affected due to COVID-19. Most of the prescription drugs and OTC medicines are available via delivery for those who need it. There is also a potential upside should injectable treatments for COVID-19 be developed.
Food + Beverage
Food is good for 10% of the revenue. The food service (trays/closures) has been impacted drastically due to restaurant closures. Major categories such as Condiments, Dairy, and Infant Nutrition have remained stable.
Beverage only accounts for 5% of revenue, but this would usually be higher. The beverage side of things has been negatively impacted as they rely on "on-the-go" beverages.
How Does The Second Half Look?
The company is not making any crazy positive statements. Which I think is smart. There is still so much uncertainty for multiple markets around the world. COVID-19 continues to spike randomly, and seemingly out of control. But, the company is expecting gradual improvement compared to the first half of the year as restrictions in most places start to ease. The company is predicting EPS to fall between $0.80 – $0.88 for Q3. For reference, it was $0.85 in 2019. There is a chance they beat 2019, which would be massive and the stock would likely see a very green day. At the end of the day, cash generation is going to remain strong as YTD cash flow is ahead by $9 million this time last year.
The obvious challenge is going to continue to overcome COVID-19. They need travel-related retail stores to re-open more than anything. We will not see the company back up at its "full" potential until that happens. The offsets from some of the sanitizers and soaps are good short-term fillers, but that too will dissipate over time.
How Is The Dividend?
While the yield is nothing to scream about, it is consistent cash flow. If you are looking for a little bit of stable income, AptarGroup is the stock for you. Currently paying out $1.42 per share, and analysts are expecting the constant annual rise in dividends to continue up to $1.60 by the end of next year. The company has a very strong history of not only paying the dividend but increasing it, as shown below. I would bank on an annual raise of 4-6% from here on out.

(Source: TIKR.com)
As for its safety, it is very safe. The current payout ratio is sitting at 46%, and three years from now it is expected to drop to 35%. Unless something drastic happens to their earnings, there is no reason to be worried about a cut or anything of that sort. Even when cash flow has fallen short in the past, the payout ratio rarely hits 60%. The stock has recovered 50% off the lows in March and does not appear to be looking back. Enjoy your small yield while you watch the stock appreciate from here.
What Does The Price Say?
Taking a look at the charts, the first thing that sticks out to me is the tight squeeze we have seen from the Bollinger bands over the last month. This was bound to break, just a matter of which way. As we can see below, we got a breakout today. This has been on my watchlist for a little bit now, and I bought into the breakout today at $120.73.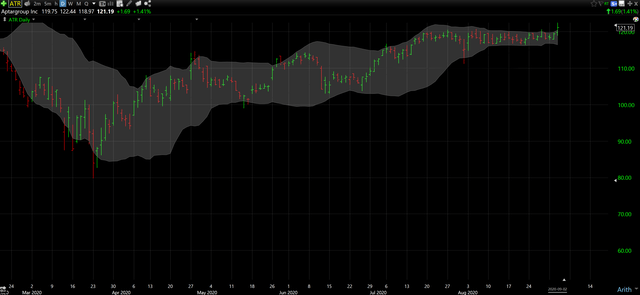 (Source: TC2000.com)
Looking for support from here, the obvious support is the resistance we just broke out of. I do expect a re-test of the $120.64 level before blasting off further, but there should be very solid support here as the stock failed to push through the level at least 3 times in the last 45 days.
My stop is going in at $114.77. This is only about 6% down from current levels which makes me feel very comfortable. This is kind of a midpoint to where the stock COULD fall to if things got ugly. $110 is the lowest I would want a stop. This is where we saw the stock dip to briefly on July 31st. This is still only about 9% from current levels. Because of this tighter stop, I can allocate more capital to the trade.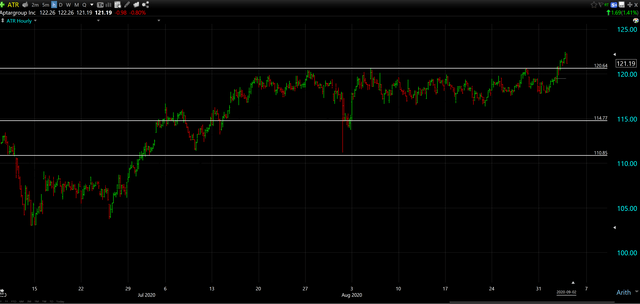 (Source: TC2000.com)
The 200-day moving average also has a fairly strong history of support. The good news is that the stock has recovered from the March crash, and looks to be moving up nicely from here. The dip on the 31st took us back to the moving average and held nicely. We are about 8% from the moving average right now which puts us right between the two stops I mentioned above. You could use either of the three options as a stop and sleep well at night holding this one.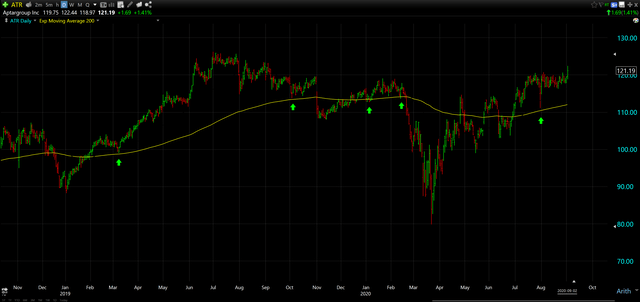 (Source: TC2000.com)
In terms of price target, I am hoping we challenge the previous highs in the $125-$126 range quickly here and breakout beyond that. I am long ATR.
Wrap-Up
As you can see, the company has managed to navigate the worst of the COVID-19 crisis fairly well. While some segments have struggled, others have picked up the slack. One of the benefits of a well-diversified company. The dividend is not anything to brag about, but they are a lock for annual increases, and there is no concern over it getting cut. Lastly, the technical picture is a pretty one right now as the stock breaks out of this tight range with support all around it. I look forward to a strong second half from AptarGroup. Stay safe out there!
Disclosure: I am/we are long ATR. I wrote this article myself, and it expresses my own opinions. I am not receiving compensation for it (other than from Seeking Alpha). I have no business relationship with any company whose stock is mentioned in this article.